On August 14th, Manitoba IBA held the third bird blitz of the season at the Delta Marsh IBA. Our objective for this event was to record all birds we saw, however, special attention was to be given to any Species at Risk that might have been sighted. Waterbirds and shorebirds were also a special area of focus for the day due to their ideal habitat found in the IBA.
It was an early morning for the IBA staff and volunteers, starting our survey at 7:00 am or earlier in an effort to beat the heat that was coming. Luckily the day prior had been cool, so the morning was actually a great temperature. We were lucky to have a larger group of volunteers for this event and were able to cover more areas of the IBA. There were 15 of us in total including the IBA staff. We were separated into 6 different groups to cover 6 areas of the IBA.
The groups were broken down as follows:
Group A: Katharine and John Schulz, Barbara Emberley
Group B: Rudolf Koes and Garry Budyk
Group C: Jo Swartz and Rob Parsons
Group D: Pat Wally, Nathan Entz and Doreen Draffin
Group E: Vicky Tang, Amanda Shave and Ariel Desrochers
Clandeboye Group: Alyssa Stulberg and Theresa Mackey
We had no set routes for the day. The goal for each group was to simply explore the area assigned and record all birds and observe the habitat. Various species were recorded and some in very large numbers.
Group A (Katharine, John and Barbara) observed 59 species during their survey. Many shorebirds were observed during their survey including the Stilt Sandpiper, Least Sandpiper, Solitary Sandpiper, Wilsons Phalarope and Greater/Lesser Yellowlegs. Gulls and swallows were observed in large numbers.  Otherwise, highlights of Group A consisted of three Virginia Rails, a large flock of approximately 24 Gray Partridge, a flock of Bank Swallows observed on the 44W just south of 80N, two Caspian Terns along the diversion and plentiful Red-tailed Hawks throughout!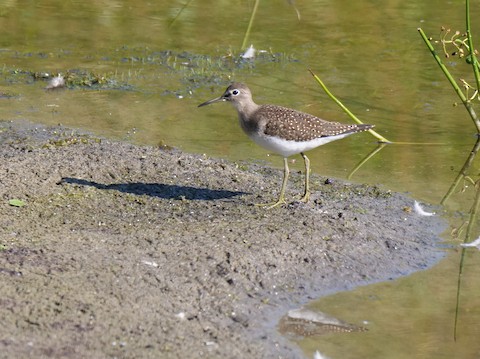 Rudolf and Garry were the members of Group B. They covered the area surrounding Delta Beach, observing various species along their survey. They walked along the beach itself as well as birding from their car as needed. Large numbers of shorebirds were spotted, including 126 Least Sandpiper, 100 peeps (unknown small shorebirds), 17 Semipalmated Plover and 52 Killdeer. They also observed large numbers of swallows, including 325 Bank Swallows, 161 Tree Swallows and 85 Purple Martins. They also took a swing over to the landfill on PR 227 after our lunch-time meet up to see what birds were around in addition to what Group C observed there.
As Group C Jo and Rob covered most of the area between PR 430 on east, to just west of Portage Creek and the PR 227 landfill. They also saw large numbers of birds including 1200 Franklin's Gulls and 1088 Ring-billed Gulls, most of which were at the landfill. They also spotted 4 Red-headed Woodpeckers, a coveted bird of the year! (At least for us IBA staff who have been doing Red-head Woodpecker monitoring this year). In total, Group C observed 59 species.
Alyssa and Theresa were our intrepid Clandeboye Group, who walked from St Ambroise Provincial Park west to Clandeboye Bay. They observed 28 species in total, with a mix of shorebirds, waterbirds and other species such as a Belted Kingfisher, a Great Blue Heron and a Black and White Warbler. The shorebirds they observed included Baird's Sandpiper, Least Sandpiper, Spotted Sandpiper, Solitary Sandpiper and Lesser Yellowlegs.
Group D consisting of Pat, Doreen and Nate identified 45 species in total in the west portion of the marsh. They observed a variety of species including some shorebirds, various species of sparrow, hawks and waterbirds. An interesting sighting for them was the Eastern Wood-Peewee, a federal Species at Risk (special concern).
The IBA staff comprised Group E. We primarily birded while walking from where HWY 430 ends by the lake towards Twin Lakes beach. We noticed on our walk that the water level had been pushed back considerably due to drought conditions, leaving long stretches of empty shoreline. We observed 41 species including large numbers of Least Sandpiper, Semipalmated Sandpiper, Franklin's Gulls, Double-crested Cormorants and 900 Brewer's Blackbirds. We also saw what we thought may have been two separate families of Bald Eagles in their juvenile stage. The majority of shorebirds were seen closer to the end of HWY 430, with fewer seen near to Twin Lakes Beach.
We all met up at the end of the blitz at the former boardwalk trail in the Delta Beach community for a well deserved snack in the shade. We got pretty lucky with the weather, as the morning was a lovely temperature. It was considerably hotter after our group get-together! In total we were able to identify 115 different species during the blitz. Again, a big thank you to everyone who came out! The full list of species identified and their counts can be found below.
| | |
| --- | --- |
| Species | Sum of Count |
| | |
| American Bittern | 4 |
| American Crow | 41 |
| American Goldfinch | 44 |
| American Kestrel | 7 |
| American Redstart | 2 |
| American Robin | 14 |
| American White Pelican | 412 |
| Baird's Sandpiper | 12 |
| Bald Eagle | 22 |
| Baltimore Oriole | 9 |
| Bank Swallow | 461 |
| Barn Swallow | 194 |
| Belted Kingfisher | 3 |
| Black Tern | 177 |
| Black-and-white Warbler | 2 |
| Black-billed Magpie | 11 |
| Black-capped Chickadee | 5 |
| Blue Jay | 7 |
| Blue-winged Teal | 91 |
| Bobolink | 7 |
| Bonaparte's Gull | 137 |
| Brewer's Blackbird | 1062 |
| Buff-breasted Sandpiper | 1 |
| Buteo sp. | 1 |
| Canada Goose | 32 |
| Caspian Tern | 5 |
| Cedar Waxwing | 15 |
| Chipping Sparrow | 1 |
| Clay-colored Sparrow | 19 |
| Cliff Swallow | 12 |
| Common Goldeneye | 1 |
| Common Grackle | 37 |
| Common Raven | 23 |
| Common Tern | 16 |
| Common Yellowthroat | 14 |
| Cooper's Hawk | 3 |
| Double-crested Cormorant | 773 |
| Downy Woodpecker | 5 |
| Duck sp. | 14 |
| Eastern Bluebird | 1 |
| Eastern Kingbird | 131 |
| Eastern Phoebe | 4 |
| Eastern Wood-Pewee | 3 |
| European Starling | 3 |
| Forster's Tern | 29 |
| Franklin's Gull | 3697 |
| Gadwall | 1 |
| Gray Catbird | 19 |
| Gray Partridge | 24 |
| Great Blue Heron | 7 |
| Great Egret | 16 |
| Great Horned Owl | 1 |
| Greater Yellowlegs | 164 |
| Greater/Lesser Scaup | 2 |
| Gull sp. | 1768 |
| Hairy Woodpecker | 3 |
| Herring Gull | 66 |
| Hooded Merganser | 3 |
| House Sparrow | 67 |
| House Wren | 2 |
| Killdeer | 94 |
| Least Flycatcher | 16 |
| Least Sandpiper | 708 |
| Lesser Black-backed Gull | 1 |
| Lesser Scaup | 6 |
| Lesser Yellowlegs | 382 |
| Lincoln's Sparrow | 1 |
| Mallard | 80 |
| Marsh Wren | 3 |
| Merlin | 12 |
| Mourning Dove | 78 |
| Northern Flicker | 4 |
| Northern Harrier | 13 |
| Northern Pintail | 1 |
| Northern Shoveler | 2 |
| Northern Waterthrush | 6 |
| Olive-sided Flycatcher | 1 |
| Orchard Oriole | 2 |
| Pectoral Sandpiper | 62 |
| Peep sp. | 200 |
| Phalarope sp. | 60 |
| Purple Finch | 1 |
| Purple Martin | 143 |
| Red-eyed Vireo | 3 |
| Red-headed Woodpecker | 4 |
| Red-necked Phalarope | 31 |
| Red-tailed Hawk | 43 |
| Red-winged Blackbird | 360 |
| Ring-billed Gull | 2146 |
| Rock Pigeon | 25 |
| Rose-breasted Grosbeak | 4 |
| Ruby-throated Hummingbird | 3 |
| Sanderling | 13 |
| Sandhill Crane | 5 |
| Savannah Sparrow | 28 |
| Sedge Wren | 4 |
| Semipalmated Plover | 30 |
| Semipalmated Sandpiper | 144 |
| Sharp-shinned Hawk | 1 |
| Sharp-tailed Grouse | 2 |
| Solitary Sandpiper | 3 |
| Song Sparrow | 6 |
| Sparrow sp. | 1 |
| Spotted Sandpiper | 6 |
| Stilt Sandpiper | 9 |
| Tennessee Warbler | 3 |
| Tree Swallow | 314 |
| Turkey Vulture | 12 |
| Virginia Rail | 3 |
| Warbling Vireo | 8 |
| Western Grebe | 5 |
| Western Kingbird | 22 |
| Western Meadowlark | 92 |
| White-breasted Nuthatch | 3 |
| White-rumped Sandpiper | 1 |
| Willet | 3 |
| Wilson's Phalarope | 131 |
| Wood Duck | 6 |
| Yellow Warbler | 96 |
| Yellow-bellied Sapsucker | 5 |
| Yellow-headed Blackbird | 36 |
| Yellow-rumped Warbler | 2 |
| | |
| Grand Total Individuals | 15196 |
| Grand Total Species | 115 (+7 "sp") |
-Ariel